Jurassic World: Dominion Dominates Fandom Wikis - The Loop
Play Sound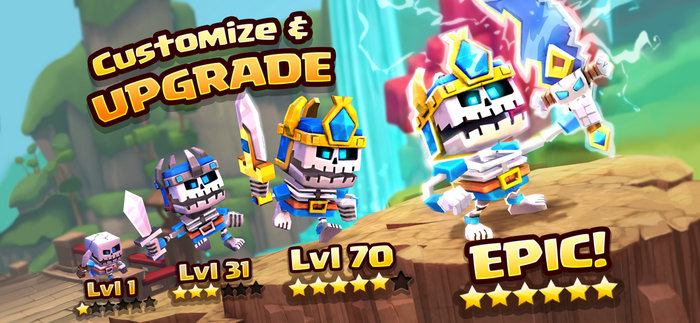 Tokens and Hero Stars
| | |
| --- | --- |
| | You got a Hero Token! Collect enough of them and you can unlock or upgrade that Hero! |
Upgrading Heroes involve the increase of its basic stats like Health (HP), Attack (ATK), Defense (DEF) and its general toughness in dungeon fights and Dungeon Raids (PvP). This is done by collecting

Hero Tokens found in specific dungeon levels as a possible reward from the

boss treasure chest,

Portal Summons, Events, and

Quests. The collected tokens result in an increase of

Hero Stars.
Hero Stars

Hero Stars boost the base stats of your Heroes. Your hero can have up to 6 stars (★★★★☆☆), and each additional star increases the stats even a little bit more than the previous one. With six stars the Hero gets a 100% bonus. We'll see exactly how this works in a moment. First let's see a few more ways to make heroes stronger.
More ways to upgrade your Heroes are...
If you are looking for a way to get more Abilities, more Special Attacks, and unlock powerful Traits for your Heroes, then check out the Ascension page. That's another way to gain more power.
The Hero Rarity is preset and cannot be upgraded. But it should be mentioned here because it affects the strength of your heroes, including

Hero Power

. Maybe you also wondered why some hero tokens look different? It's because of the Hero Rarity.
But back to

Hero Tokens and

Hero Stars, boss ...
Where to Begin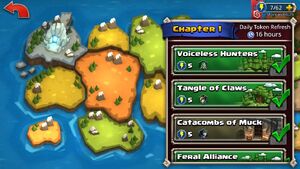 In the campaign map, there are token portraits of each hero available in the game. Clearing the dungeon will reward the adventurer anywhere from 0-3 Hero tokens. By collecting enough of a specific type of Hero token, the adventurer can unlock new heroes and even upgrade its star rating. Once a token is collected from a specific dungeon, that token is grayed out and is unavailable until the dungeons reset at midnight. By spending 20 gems per refresh (increases up to 80 gems per refresh), a specific dungeon level can restock its token immediately.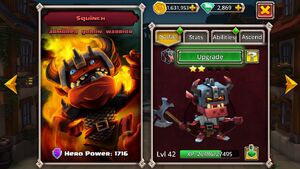 Once there's enough tokens collected, an option to upgrade the Hero is available in its profile tab. Clicking on it will raise the upgrade threshold to the next level. It is free to upgrade, and its stats will be improved across the board.
How to get more Hero Tokens
That's not the only way to collect Hero Tokens. You can find them in Event rewards, Hero Calendar, Honor Shop, Aether Shop, Daily Rewards, many Quests, crown quests for Guilds, the The Tower of Pwnage, Portal Summons, and even Free Hero Tokens, see below.
Token Costs per Star Rank
| Current star rating | Hero Tokens to upgrade to next level | Stats boost |
| --- | --- | --- |
| To Unlock | 10 | N/A |
| ★☆☆☆☆☆ | 20 | No boost |
| ★★☆☆☆☆ | 70 | +12.5% |
| ★★★☆☆☆ | 100 | +25% |
| ★★★★☆☆ | 150 | +40% |
| ★★★★★☆ | 250 | +60% |
| ★★★★★★ | N/A - maximum reached | +100% |
Stat Boosts
Each Hero Star boosts all stats of the hero. The more stars a hero has the more powerful they become.
Hero unlocks
Alternatively to Portal Summons the Hero Tokens can be used to unlock Heroes. You need to collect a specific number of tokens. After the hero is unlocked you can team them up, and use them for Dungeon Runs or Dungeon Raids. If the base star rank of a hero starts at a higher star rank, that is, higher than one star (★), then the amount of tokens to unlock it is the sum of the tokens required up to that rank. For example,

 Lady Nimriel begins at star rank 3 (★★★), thus she requires 10+20+70 = 100 tokens to unlock.
Token locations
The following table gives an overview where to find tokens for your favourite Heroes. Not all Heroes can be upgraded by collecting tokens found in dungeons. But you can collect tokens from Portal Summons, buy tokens in the Shops or collect them during a Special Event.
Token Locations
Hero

Rarity
Campaign
Dungeons
Challenge
Mode
Boss
Mode

Great


Heroic


Honor

Other locations

Abigail the Brutal
Gold

1

Heroic
Daily Quests/Treasure Room
Admiral Kreel
Silver

2

5

Heroic
Daily Quests/Treasure Room
Agnon
Gold
Heroic
Daily Quests/Treasure Room
Alexandros
Silver

6

Heroic
Daily Quests/Treasure Room
Alrakis Skullkeeper
Legendary
Heroic
Event/VIP
Archangel Emily
Gold

1

Heroic
Daily Quests/Treasure Room
Archon
Legendary
Heroic
Event
Aria
Legendary
Aether Shop/Event
Augustus
Bronze

9

Great
Heroic
Daily Quests/Treasure Room
Balog the Loud
Silver

1

6

Heroic
Daily Quests/Treasure Room
Balur
Legendary
Heroic
Event
Bauble
Silver

7

Heroic
Daily Quests/Treasure Room
Black Diamond
Silver

1

6

Heroic
Daily Quests/Treasure Room
Bovus El Doro
Silver

7

Heroic
Daily Quests/Treasure Room
Chief NubNub
Silver

1

6

Heroic
Daily Quests/Treasure Room
Cobressa
Gold

1

Heroic
Daily Quests/Treasure Room
Craw
Legendary

1

Heroic
Daily Quests/Treasure Room
Crucible
Legendary
Heroic
Event
Cruel King Bramble
Legendary
Heroic
Event
Dagrund Blacksmoke
Gold

1

Heroic
Daily Quests/Treasure Room
Deadeye
Gold

1

Heroic
Daily Quests/Event/Treasure Room/PVP
Dhaegon Stonecrusher
Legendary

1

Heroic
Campaign Reward/Treasure Room
Drakk the Warlord
Legendary
Heroic
Event
Ekko
Bronze

8

Great
Heroic
Daily Quests/Treasure Room
Ella Ametryst
Bronze

8

Great
Heroic
Daily Quests/Treasure Room
Ember Sanguine
Gold
Heroic
guild crown war/daily quests/Treasure Room/PVP
Emperor Zulkodd
Legendary
Heroic
Event
Ferno
Gold

1

Heroic
Daily Quests/Treasure Room
General Krexx
Gold
Heroic
Daily Quests/Treasure Room
Goretusk
Gold
Heroic
Daily Quests/Treasure Room
Grettle
Legendary
Heroic
Grog-Gnog
Legendary
Heroic
Event
Grondar
Legendary
Heroic
Event
Hagrim Felhorn
Gold
Heroic
Daily Quests/Treasure Room
Hansuke Undying
Gold
Heroic
Daily Quests/Treasure Room
Harbinger the Terror
Legendary
Heroic
Event
High King Valkin
Legendary
Heroic
Event
Hopper
Gold

1

Heroic
Daily Quests/Treasure Room
Icebloom
Gold

1

Heroic
Daily Quests/Treasure Room
Icepick
Gold

1

Heroic
Daily Quests/Treasure Room
Ignus the Mad
Silver

3

4

Heroic
Daily Quests/Treasure Room
IGOROK
Legendary
Heroic
Event
Indigo
Gold

1

Heroic
Daily Quests/Treasure Room
Iris
Gold
Heroic
Daily Quests/Treasure Room
Jabber Clenchjaw
Bronze

8

Great
Heroic
Daily Quests/Treasure Room
Jibber Clenchjaw
Bronze

8

Great
Heroic
Daily Quests/Treasure Room
Jin Lei
Legendary
Heroic
Event
Julius
Gold
Heroic
Daily Quests/Treasure Room
Jumbeaux
Legendary
Heroic
Event
Kai Makani
Gold
Heroic
Daily Quests/PVP/Treasure Room
Kelpy Shells
Gold
Heroic
King Yorick
Silver

1

6

Heroic
Daily Quests/Treasure Room
Kobal the Pestilent
Bronze

8

Great
Heroic
Daily Quests/Treasure Room
Koros
Gold

1

Heroic
Daily Quests/Treasure Room
Kozar Bonebreaker
Gold

1

Heroic
Daily Quests/Treasure Room
Lady Nimriel
Silver

1

6

Heroic
Daily Quests/Treasure Room
Leonidus
Gold

1

Heroic
Chall Reward/Daily Quests/Treasure Room
Life Reaper Brom
Silver

1

6

Heroic
Daily Quests/Treasure Room
Lily Blossom
Legendary
Heroic
Event
Lord Zomm
Legendary
Heroic
Event
Lorelei
Legendary
Heroic
Event
Lumin the Radiant
Legendary
Heroic
Lupina
Gold
Heroic
Treasure Room/Daily Quests
Malice
Gold

1

Heroic
Daily Quests/Treasure Room
Mangle Jaw
Bronze

7

Great
Heroic
Daily Quests/Treasure Room
Marrow
Silver

2

5

Heroic
Daily Quests/Treasure Room
Masuta Kira
Gold

1

Heroic
Daily Quests/Treasure Room
Miko the Marvelous
Legendary
Heroic
Event
Mire
Legendary
Heroic
Moriko
Legendary
Heroic
Nitpick
Gold

1

Heroic
Daily Quests/Treasure Room
Niveous
Legendary
Heroic
Event
Overlord Executum
Bronze

8

Great
Heroic
Daily Quests/Treasure Room
Phemus
Silver

2

5

Heroic
Daily Quests/Treasure Room
Phenol Thoxian
Silver

1

6

Heroic
Daily Quests/Treasure Room
Pignius Maximus
Silver

7

Heroic
Daily Quests/Treasure Room
Pontifex Mortis
Legendary
Heroic
Event
Reyla the Lightbringer
Legendary
Heroic
Event
Rocky the Shiitake
Gold

1

Heroic
Daily Quests/Treasure Room
Rogar Stonecrusher
Bronze

8

Great
Heroic
Daily Quests/Treasure Room
Samurai Takumi
Silver

7

Heroic
Daily Quests/Treasure Room
Selwyn the Enduring
Gold

1

Heroic
Daily Quests/Treasure Room
Serenity
Legendary
Heroic
Event
Shade
Legendary
Heroic
Event
Shadow Queen Daeris
Silver

1

6

Heroic
Daily Quests/Treasure Room
Shadowblade
Silver

1

6

Heroic
Daily Quests/Treasure Room
Shieldmaiden Astrid
Gold
Heroic
Daily Quests/Treasure Room
Sifu Jianzhi
Gold

1

Heroic
Daily Quests/Treasure Room
Sir William
Bronze

8

Great
Heroic
Daily Quests/Treasure Room
Solaris
Legendary
Heroic
Event
Spitfire
Gold
Heroic
Squinch
Bronze

8

Great
Heroic
Daily Quests/Treasure Room
Stone Fist
Bronze

8

Great
Heroic
Daily Quests/Treasure Room
Sun Wukong
Legendary
Event
Sybil
Legendary
Heroic
The Furnace
Legendary
Heroic
Event
Therand Fiddlestrom
Gold
Heroic
Daily Quests/Treasure Room
Torchy
Bronze

8

Great
Heroic
Daily Quests/Treasure Room
Tsume
Gold

1

Heroic
Daily Quests/Treasure Room
Underlord Thraxx
Legendary
Heroic
Event
Undine
Legendary
Heroic
Event
Viperia
Gold

1

Heroic
Daily Quests/Treasure Room
Vulcan
Legendary
Heroic
Event
Willow Swift
Bronze

8

Great
Heroic
Daily Quests/Treasure Room
Yan Luo
Legendary
Heroic
Event
Yasmin Bloom
Bronze

8

Great
Heroic
Daily Quests/Treasure Room
Yokozuna
Silver

1

6

Heroic
Daily Quests/Treasure Room
Zen
Gold
Heroic
Daily Quests/Treasure Room
Zola
Gold
Heroic
Event/Daily Quests/Treasure Room
Zurk
Bronze

8

Heroic
Daily Quests/Treasure Room
Notes and Tips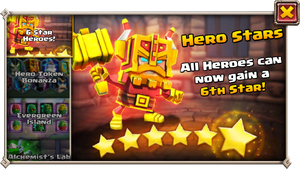 Starting on November 19,2015, heroes have the capacity to increase their max star level from 5 stars to 6 stars.
Stars determine the difficulty of Special Events (★ Easy, ★★★ Medium, ★★★★★ Hard)
In Dungeon Raids and in The Tower of Pwnage not only the level of individual Heroes and their number of Ascensions matter but also their star level does
Read more