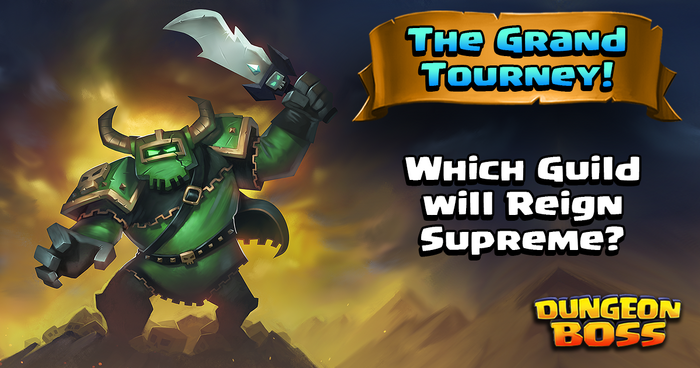 The Guild Grand Tourney has begun! (2018-05-31 for about 3.5 days).
This event, also known as GGT, is a competitive PvP

Guild event that involves all Guilds and all their Guild members. You need to join a guild before the event starts! (Player Level 15 is usually required for big events like this one.)
The Guild Grand Tourney Event took place several times in the past:
How the event works
PVP Win Streaks are deactivated throughout the event, and therefore, for the whole weekly season, but will be reactivated at the start of the following season.
The leaderboards are completely based on PvP Trophies. Any trophies your earn are counted towards your Guild's total, and any trophies lost are deducted, until your personal contribution reaches zero. At no point can your personal contribution become negative.
There are special passive effects running during the event to shake up the metagame! These buffs last for the entire event.
There are quests that pay out Event Tickets. Event tickets are note related to Trophies/leaderboard progress in any way.
The event will end at 11pm CST Sunday night, so guilds have the time to shuffle their members around for the new week.
PVP Streaks are deactivated throughout the event, and therefore, this week's season.
Event Tickets can be spend on the Event Shop. Unused tickets expire!
Event Passives
All single target non-basic attacks deal reduced damage! For easy reference: Any attack that isn't debuffed by the "Drenched" status is debuffed by this!
All Armored heroes get an additional bonus that reduces the damage they take from all sources by 10%.
All Legendary heroes deal 15% bonus damage for each buff they have. Note: The event effects are considered passives, not buffs!
In addition, whenever you win a PVP raid, you will earn 2x event tickets (100

tickets) if you win with a Barbarian; 3x with 2; 4x with 3; and 5x if your team is all Barbarians (250

tickets).
Quests
Every day a small set of quests is released to earn extra

Raid Tickets and extra

Event Tickets. On day 3 (Sunday) the quests for day 3 and 4 are released because this event ends earlier than usual. It ends with the War of the Crowns Tournament on Sunday night.
Grand Tourney Quests
Honor Seeking

Earn 200000 Honor!
Reward: 20,000 Event tickets

Grand Tourney - Day 1

Complete All Day 1 Event Quests
Reward: 2750 Event tickets, 250 Event tickets for guild members, 10 Raid Tickets

1: Smart Shopping


Purchase 5 items in any Shop!
Reward: 1000 Event tickets

1: Nature Training


Attempt 8 Raids with a Nature Hero on your team!
Reward: 1000 Event tickets

1: Family Dominace


Win 4 Raids with ALL Heroes of the same Family (Dwarf, Elf, etc)
Reward: 2500 Event tickets

Grand Tourney - Day 2


Complete All Day 2 Event Quests
Reward: 2750 Event tickets, 250 Event tickets for guild members, 10 Raid Tickets

2: Raid Gear


Craft 10 items! (Runes, Evos, Materials, etc.)
Reward: 1000 Event tickets

2: Barbarian Training


Attempt 8 Raids with a Barbarian Hero on your team!
Reward: 1000 Event tickets

2: Elemental Dominace


Win 4 Raids with ALL Heroes of the same Element (Fire, Nature, etc)
Reward: 2500 Event tickets

Grand Tourney - Day 3


Complete All Day 3 Event Quests

Reward: 2750 Event tickets, 250 Event tickets for guild members, 10 Raid Tickets

3: Summoner


Use any Portal 10 times!
Reward: 1000 Event tickets

3: Legendary Training


Attempt 8 Raids with a Legendary Hero on your team!
Reward: 1000 Event tickets

3: Class Dominace


Win 4 Raids with ALL Heroes of the same Class (Tank, Caster, etc)
Reward: 2500 Event tickets

Grand Tourney - Day 4


Complete All Day 4 Event Quests
Reward: 2750 Event tickets, 250 Event tickets for guild members, 10 Raid Tickets

4: Runic Raiders

Equip 20 Runes!!
Reward: 1000 Event tickets

4: Warrior Training


Attempt 8 Raids with a Warrior Hero on your team!
Reward: 1000 Event tickets

4: Rainbow Dominace


Win 4 Raids with ALL Heroes of different Elements! (Dwarf, Elf, etc)
Reward: 2500 Event tickets