Starts Powered - This Ability has full energy and can be used at the beginning of the battle.
Type: effect - Category: Energy
See also: |

Energy Gain |

Energy Loss |

Extra Energy |

Starts Powered

Starts Powered means that an Ability has enough Energy to be used immediately. After the Ability has been used, the Energy must recharge in order for the Ability to be used again. This is the so-called Energy Cost value. It's a cooldown value.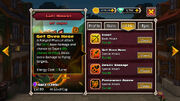 In the game this value is visible in a tooltip that appears when you press and hold an ability icon.
Bastic Attacks are always Powered. Traits work passively and do not use any Energy.
Since the first Ability is always fully charged at the beginning of a battle,

Starts Powered only affects the second and third Ability of the hero. Also, it is only relevant for the attack team, because in a Raid the defenders have all three abilities fully charged.

Festive Runes and

Extra Energy from traits can give the Hero enough Energy so that abilities that are not Powered can also be used immediately. This is especially helpful in Raids.
The opposite can also happen. If the Hero is hit by an attack with

Energy Loss, the ability may not be able to be used immediately, but has to recharge over a few rounds or has to be actively recharged. For more details see

Energy Loss,

Energy Gain and

Extra Energy.

Energy Drain does not affect the currently available Energy, but increases the recharge time of the abilities.
Heroes
The following heroes that have an ability that Starts Powered: