We're Getting Mutants in the MCU - The Loop
Play Sound
Spirit Linked - A link is established between the attacker and the target. On the attacker's side this Buff reflects all damage and debuffs back at the target as long the Spirit Link is active. On target's side this is a Debuff that steals all buffs and healing from the target. Lasts for 3 turns.
Type: buff - Category: Status Effect, Damage, Dodge, Special
See also: |

Cleansing Regeneration |

Foresight |
Graniteform |
Ice Block |

Impervious |

Invincibility |

Invulnerable |

Magic Prism |

Oak Form |

Playing Tricks |
Reflective Plate |

Shrouded |
Spirit Linked |
Storm Power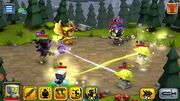 Spirit Linked is a connection between the attacker and the opponent, who is the target. It has two components.
The attacker gets a Spirit Linked buff, which

transfers all debuffs

and damage to the opponent.
The target gets a Spirit Linked debuff that transfers all buffs and healing to the attacker.
In short, all good things are claimed by the attacker and all bad things are sent back to the sender.
How to break the Link
The link will be broken as soon as the buff on one side is

Purged or the debuff on the other side is

Cleansed. After 3 turns the link expires.

Null-Magic and

Foresight can prevent the link.

 Archangel Emily,
 Kelpy Shells and

 Dagrund Blacksmoke can passively remove a Spirit Link with

 Divine Presence and

 Cleansing Aura that removes a buff or debuff, respectively.
Spirit Link vs Magic Prism
Spirit Linked always starts from the caster and connects to the selected target.
Magic Prism is very similar to Spirit Linked, but allows a choice of attacker while the target is random.
Heroes
The following heroes have or can inflict/apply Spirit Linked:
Immunity
The following heroes are immune to Spirit Linked: