Update needed
This page needs to be updated. Please update this page to reflect recent events or newly available information.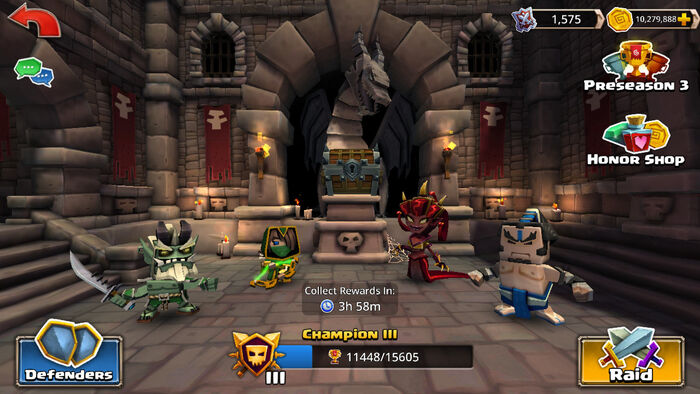 About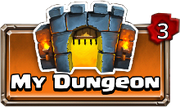 This option is unlocked at Player Level 10. My Dungeon is also the place where Dungeon Raids can be started.
Once a day, a chest within your dungeon will produce an amount of

honor,
gems, and

gold based off of your ranking. However, when players begin to raid your dungeon, and succeed in doing so, you may lose some gold and honor.
Your chest is protected by Heroes you choose as defenders. In the case that your chest is raided successfully, the amount of

honor and

gold taken are nearly equivalent to how much you would often take from others when you raid them.
Protecting Your Chest
Although you can defend your chest with your defenders, you may also use hammers to protect your chest, preventing the loss of honor scrolls and gold. However, you will still lose trophies.
Defenders
The strength of your defending team calculates the gold multiplier. It increases the rate of gold production and the maximum gold that your chest can store.
See Dungeon Raid for details on battle play and selection.
Honor Shop
The Honor Shop is another Shop found in My Dungeon (unlocked at Player Level 10).
An adventurer can use Honor Scrolls to purchase goodies through the honor shop. The shop contains the following items:
Community content is available under
CC-BY-SA
unless otherwise noted.