Hero Rarity has been introduced with the New Portal Update (Feb-2019). There are 4 different Hero Rarities in the game. The rarity is indicated by decorations of the Hero's token and portrait. It's lowest to highest: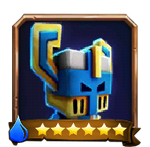 Bronze Hero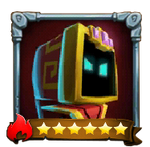 Silver Hero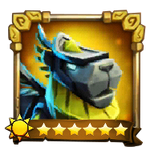 Gold Hero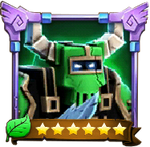 Legendary Hero
Epic Heroes have a silver skull

on top of their portrait. The Epic boosts the hero's stats and have a chance to add special effect to their basic attack.
Rarity Overview
Star Requirement
Portal Summons
Aether
Rarity
Stat Boosts
First Ascension
Second Ascension
Tokens Summon
Chance
for Excess Tokens
Bronze
None
★☆☆☆☆☆
★★☆☆☆☆
20 Tokens
~55%
5
Silver
+5%
★☆☆☆☆☆
★★★☆☆☆
20 Tokens
~25%
10
Gold
+15%
★★☆☆☆☆
★★★★☆☆
15 Tokens
~16%
30
Legendary
+30%
★★★☆☆☆
★★★★★☆
10 Tokens
~4%
300
Note: The given chance (%) does not refer to certain hero but to all heroes of that rarity.

PRO-TIP: When you're looking for a certain hero save your free

Portal Summons and use them when the hero you want is featured. Featured heroes have a greatly increased chance to unlock. Roughly 6.5% for exactly this hero. Often there are double features! Free summons can be earned from

Daily Quests,
Daily Rewards, weekly

Guild Crown Tournament, and

events and event quests.
Hero Rarity affects the following:
Ascension requirements: Bronze heroes have low star requirements and rare heroes have high star requirements
Token availability: The higher the rarity is the lower are the chances to get the hero from Portal summons when the hero is not featured
Aether exchange rate: The rarer the hero is the more Aether you get from excess tokens
In general, the higher the tier, the stronger the hero. The stat boosts apply to Attack, Defense, Health and Skill.

PRO-TIP: Do

10x Portal Summons at once for a guaranteed Gold Hero!
Tokens for Bronze Heroes can be looted in Normal Mode dungeons and

Great Portal Summons, Silver Heroes in Challenge Mode dungeons, and a few Gold Heroes have their tokens hidden in Boss Mode dungeons. More tokens can be obtained from weekly PvP Tourney, Daily Quests, and Events.
Tokens for Legendary Heroes cannot be found in dungeons.
Legendary Heroes
Not all Heroes are recognized as legendary, and when they are, more than one copy of themselves can exist in the dungeon world. These mythical creatures have higher than normal augmented stats that make them stronger than the average hero. Legendary heroes are often identified as the "King" of a certain Family or Class, such as Undead, Dwarf, or Goblin.
Legendary Heroes often get an Epic Passive (trait) when their Epic is unlocked. This passive is an epic, improved version of their signature trait. It passively buffs their Family kin and allies on the team.
Heroes by Rarity
There are 16 Bronze Heroes:
There are 19 Silver Heroes:
There are 37 Gold Heroes:
There are 20 Legendary Heroes:
Gallery
Community content is available under
CC-BY-SA
unless otherwise noted.