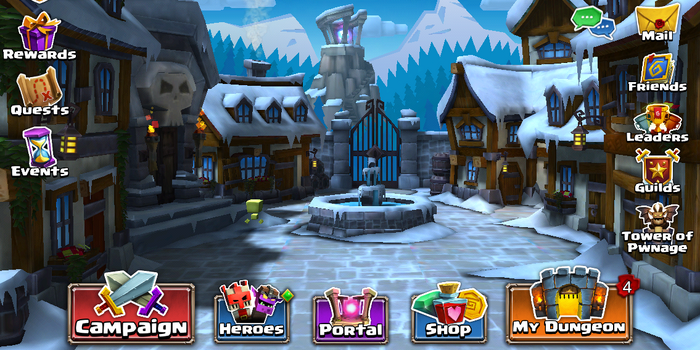 December is a special time to Celebrate the joy in Christmas, and what better way to do so by dressing up in warm scarves, hats, sweater, and boots.
About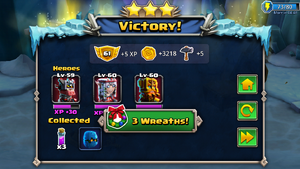 For the last couple of weeks of December, adventurers can be a part of the celebration by collecting wreaths, a new resource used towards the purchase of Christmas and holiday special rewards found exclusively in the shop. These rewards can range from new skins for your heroes, Heroic Summons, or even additional stamina and potions. To begin collecting wreaths, head on to any dungeon and defeat a dungeon boss. Successful completion and the drop of a Silver Chest or better will net you some decent amount of wreaths.
Special Events and Dungeons
Head on over to the Ancient Ice, where you can complete special quests and earn tokens for the winter heroes!
Done with the Ancient Ice? Go fight in the Crystal Citadel where you can go toe to toe with the new Icebloom hero as an epic boss!
The Cold Never Bothered Me Anyway
As this season rages on with wind, hail and snow, we'd like to introduce adventurers with an opportunity to gain an insight on another special hero!
Equipped with just a wand and a spectral crown of ice, she adds a support role into your team of four. Her attacks have an interesting twist to it: She'll haphazardly freeze your heroes and enemies alike (possibly due to her inability to control her powers, eh?). But no worries, there's a chance that your Frozen allies will also heal a portion of their max health.
Click ahead and take a look at her. See what you think, and grind out those hero tokens found in the Ancient Ice event!
Read More...
Rewards
Wooden chests have a chance to reward with 3 wreaths. Silver chests drop 5 wreaths, gold chests drop 10 wreaths, and ancient chests drop 50.
Shop
The following items are available in the shop. These can be exchanged with real currency or collected currency of Wreaths.
Note: Festive skin purchases do not include VIP points when they are purchased with real money.
Community content is available under
CC-BY-SA
unless otherwise noted.