Jurassic World: Dominion Dominates Fandom Wikis - The Loop
Play Sound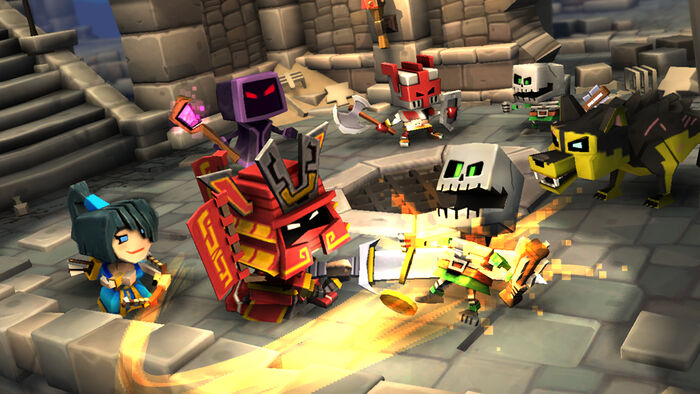 Enemies appear all throughout Dungeon Boss. There are many enemies that the player will encounter throughout the course of the game. The charts below list each enemy's name, icon, element, class and what level(s) they appear in. Bosses are not included in this list. They are listed on the Dungeons page in the order of their appearance and on the Enemies catalog in alphabetic order.
Enemy Types
See elements for different types of enemies that exist within the Campaign, each with its own advantages and disadvantages.
Enemies also come in different qualities, and they are noted with an icon embedded in its profile.

This represents minibosses, those that have slightly increased stats. They are slightly more difficult than enemies normally found in that dungeon. They are found in rooms before the last room of the dungeon, and they are most likely found in a room full of 2-3 enemies of bronze skull enemies.


This skull represents enemies that have increased stats above the bronze skull level enemies. For most dungeon levels, these are the bosses found at the end of the dungeon. They come either alone with a couple of Bronze skull-leveled minions, or come as a pair of enemies.


This is a skull reserved for epic bosses, such as Lich and Sulfurious. They have their own entrance and death animations, as well as specialized skills unique to that particular boss. They also have increased stats, in addition to a health bar displayed above the dungeon room.

See Dungeons for a list of dungeons found within the game.
Chapter 1 Enemies
| Icon | Name | Stars | Element | Class | Appearances | |
| --- | --- | --- | --- | --- | --- | --- |
| | Bramblelurk Goon | 1 (Normal), 3 (Challenge) | Nature | Slow Monster Tank | 1-1, 1-3 | |
| | Chompy (Boss) | 2 (Normal), 4 (Challenge) | Nature | Fast Beast | 1-1 | |
| | Cave Darter | 1 (Normal), 3 (Challenge) | Dark | Fast Beast | 1-1, 1-3 | |
| | Forest Bat | 1 (Normal), 3 (Challenge) | Nature | Fast Beast | 1-1, 1-2, 1-3 | |
| | Mountain Pup | 1 (Normal), 3 (Challenge) | Light | Beast Warrior | 1-2, | |
| | JadeHowl (Boss) | 2 (Normal), 4 (Challenge) | Nature | Beast Warrior | 1-2 | |
| | Prunefingerz (Boss) | 2 (Normal), 4 (Challenge) | Dark | Goblin Warrior | 1-3 | |
| | Squealing Webcap | 1 (Normal), 3 (Challenge) | Dark | Plant | 1-3, 1-4, 1-5 | |
| | Jungle Pup | 1 (Normal), 3 (Challenge) | Nature | Beast Warrior | 1-4 | |
| | Buttons (Boss) | 2 (Normal), 4 (Challenge) | Fire | Beast Rogue | 1-4 | |
| | Kaptin Toecrusha (Boss) | 2 (Normal), 4 (Challenge) | Light | Goblin Warrior | 1-4 | |
| | Nuggetoof Snatcher | 1 (Normal), 3 (Challenge) | Light | Goblin Warrior | 1-5, 1-6 | |
| | Bahdizzle Shambottom (Boss) | 1 (Normal), 3 (Challenge) | Light | Slow Goblin Caster | 1-5 | |
| | Squealing Parasol | 1 (Normal), 3 (Challenge) | Water | Plant | 1-6 | |
| | Chief JubJub (Boss) | 2 (Normal), 4 (Challenge) | Nature | Slow Goblin Healer | 1-6 | |
Chapter 2 Enemies
Name
Icon
Stars
Element
Class
Appearances
Special Ability
Crimson Pup
☆
Fire
beast rogue
2-1
Terragor

☆

☆

Fire
beast warrior
2-1
Boss
Firespine Brute
☆
Fire
beast warrior
2-1, 2-2, 2-3, 2-4, 2-5, 2-7
Mossrot Bones
☆
Nature
slow undead warrior
2-2, 2-4, 2-7
Jord the Twisted

☆

☆

Nature
tank
2-2
Boss
Taskmaster Girr

☆

☆

Nature
beast
2-3
Boss
Voltrix Apprentice

☆

Light
caster
2-3
Derrick the Forsaken

☆

☆

Dark
caster
2-4
Boss
Aldar the Mad

☆

☆

Light
caster
2-4
Boss
Cave Darter
☆
Dark
fast beast
2-5
Plexor

☆

☆☆

Dark
caster
2-5
Boss
Stone Apprentice
☆
Nature
caster
2-6
Pyromancer Apprentice
☆
Fire
caster
2-6
Apprentice Volthael

☆

☆☆

Fire
caster
2-6
Boss
Patches

☆

☆

Nature
beast warrior
2-7
Boss
Lord Maulzenvar

☆

☆

Water
caster
2-7
Boss
Lunar Prophet
☆
Dark
healer
2-8
Halitosis Werewolf
☆
Dark
beast warrior
2-8
Dusk Walker
☆
Dark
slow undead warrior
2-8
General Eclipse

☆

☆

Fire
undead warrior tank
2-8
Boss
Chapter 3 Enemies
| Name | Icon | Stars | Element | Class | Appearances | Special Ability |
| --- | --- | --- | --- | --- | --- | --- |
| Dusk Walker | | | Dark | slow undead warrior | 3-1 | |
| Brutis Forgemender | | | Water | dwarf warrior | 3-1, 3-2, 3-3, 3-5 | |
| Cave Darter | | | Dark | fast beast | 3-2 | |
| Spring Prophet | | | Nature | healer | 3-3 | |
| Spark Golem | | | Light | tank slow | 3-4 | |
| Frozen Bones | | | Water | slow undead warrior | 3-5 | |
Chapter 4 Enemies
| Name | Icon | Stars | Element | Class | Appearances | Special Ability |
| --- | --- | --- | --- | --- | --- | --- |
| Prairie Gobling | | ☆ | Nature | monster warrior | 4-1, 4-2, 4-4, 4-7 | |
| Gorefoot Tracker | | ☆ | Fire | beast | 4-1, 4-3 | |
| Mountain Pup | | ☆ | Light | beast warrior | 4-2 | |
| Firespin Brute | | ☆ | Fire | beast warrior | 4-3 | |
| Squealing Webcap | | ☆ | Dark | plant | 4-4 | |
| Spring Prophet | | ☆ | Nature | healer | 4-5 | |
| Bonfire Squire | | ☆ | Fire | tank | 4-5 | |
| Cave Darter | | ☆ | Dark | fast beast | 4-6 | |
| Inky Runtling | | ☆ | Dark | beast warrior | 4-6 | |
Chapter 5 Enemies
| Name | Icon | Stars | Element | Class | Appearances | Special Ability |
| --- | --- | --- | --- | --- | --- | --- |
| Mountain Pup | | | Light | beast warrior | 5-1 | |
| Mountain Hound | | | Light | beast warrior | 5-1, 5-3, 5-9, 5-10 | |
| Dragon Lantern Samurai | | | Fire | warrior | 5-2, 5-4, 5-5 | |
| Soulfire Ninja | | | Fire | fast assassin rogue | 5-2 | |
| Lakestrider Ninja | | | Water | fast assassin rogue | 5-3 | |
| Crashing Wave Monk | | | Water | healer warrior | 5-3, 5-4, 5-6, 5-8, 5-9 | |
| Cloudstrike Samurai | | | Light | warrior | 5-5 | |
| Cliffshade Samurai | | | Dark | warrior | 5-5 | |
| Bog Bat | | | Nature | fast beast | 5-6 | |
| Squealing Webcap | | | Dark | plant | 5-7 | |
| Arctic Hound | | | Water | beast warrior | 5-7 | |
| Frostwing Diver | | | Water | fast beast | 5-8 | |
| Frostwing Hunter | | | Water | fast beast | 5-10 | |
| Seaspray Samurai | | | Water | warrior | 5-10 | |
Chapter 6 Enemies
| Name | Icon | Stars | Element | Class | Appearances | Special Ability |
| --- | --- | --- | --- | --- | --- | --- |
| Grape Gel | | | Dark | slow monster tank | 6-1, 6-6 | Disease |
| Shadowclan Apprentice | | | Dark | goblin caster slow | 6-1, 6-2, 6-5 | |
| Defiled Bones | | | Dark | slow undead warrior | 6-2 | |
| Griefbringer Bones | | | Water | slow undead warrior | 6-2 | |
| Bone Soldier | | | Fire | slow undead warrior | 6-3 | |
| Darkglare Seer | | | Dark | caster | 6-3, 6-5, 6-6 | |
| Dusk Stalker | | | Dark | fast beast | 6-4 | |
Chapter 7 Enemies
Level range: 20 to 21
Name
Icon
Stars
Element
Class
Appearances
Special Ability
Duchess Terra
Nature
Healer
7-1
Boss
Gladespring Squire
Nature
tank
7-1
Demon Hunter
Voltrix Adept
Light
caster
7-1, 7-3, 7-5
Crashing Wave Hermit
Water
healer warrior
7-1, 7-2
Chi the Light Spirit
Light
unique support

slow

7-2
Boss
Gladespring Knight
Nature
tank
7-2
Sir Adam
Water
tank
7-3
Boss
Rose Devereux
Fire
fast rogue
7-3
Boss
Summer Priestess
Light
Healer
7-3, 7-4
PWN undead
Leoric the Brave
Light
tank
7-4
Boss
Icethorn Knight
Water
tank
7-4, 7-5
Taunt
The Archangel
Light
healer
7-5
Boss
Chapter 8 Enemies
Level range: 21 to 24
| Name | Icon | Stars | Element | Class | Appearances | Special Ability |
| --- | --- | --- | --- | --- | --- | --- |
| Torchflinger Hoodlum | | ☆ | Fire | goblin warrior | 8-1 | - |
| Sellsword | | ☆☆ | Fire | undead warrior tank | 8-1, 8-2, 8-3 | Fire Hunter; Poision and Disease immune |
| Torchflinger Warrior | | ☆☆ | Fire | goblin warrior | 8-1, 8-2, 8-5 | Warrior Hunter |
| Darkglare Seer | | ☆☆ | Dark | caster | 8-2, 8-3 | uses Disease; Disease immune |
| Icerazor Seer | | ☆☆ | Water | caster | 8-4 | Freeze immune |
| Griefbringer Bones | | ☆☆ | Water | slow undead warrior | 8-4 | Leech*, Fire Vulnerability |
| Nuggetoof Grabber | | ☆☆ | Light | goblin warrior | 8-5 | Warrior Hunter |
| Wraith Squire | | ☆☆ | Dark | undead warrior tank | 8-6, 8-7 | Dark Rancor |
| Grape Gel | | ☆☆ | Dark | slow monster tank | 8-6 | Disease on touch, damage x3 vs diseased targets |
| Firespike Seer | | ☆☆ | Fire | caster | 8-7 | Nature Hunter |
Chapter 9 Enemies
Level range: 24
| Name | Icon | Stars | Element | Class | Appearances | Special Ability |
| --- | --- | --- | --- | --- | --- | --- |
| Singeclaw Imp | | ☆☆ | Fire | demon caster | 9-1, 9-3 | Burn |
| Rimefrost Imp | | ☆☆ | Water | demon caster | 9-1 | Chill |
| Emerald Baroness | | ☆☆ | Nature | demon rogue | 9-2 | increased CRIT |
| Frostwing Diver | | ☆☆ | Water | fast beast | 9-2 | |
| Amethyst Baroness | | ☆☆ | Dark | demon rogue | 9-3 | increased CRIT |
Chapter 10 Enemies
| Name | Icon | Stars | Element | Class | Appearances | Special Ability |
| --- | --- | --- | --- | --- | --- | --- |
| Sellsword | | ☆☆ | Fire | undead warrior tank | 10-1 | |
| Singeclaw Imp | | ☆☆ | Fire | demon caster | 10-1 | |
| Rotslop Guard | | ☆☆ | Nature | demon tank slow | 10-3, 10-4, 10-5 | |
| Prairie Gobling | | ☆☆ | Nature | monster warrior | 10-3, 10-6 | |
| Eragos | | ☆☆ | Nature | demon caster | 10-4 | |
| Toxic Imp | | ☆☆ | Nature | demon caster | 10-4, 10-5, 10-6 | |
| Rottox Seer | | ☆☆ | Fire | demon caster | 10-5, 10-6 | |
Chapter 11 Enemies
| Name | Icon | Stars | Element | Class | Appearances | Special Ability |
| --- | --- | --- | --- | --- | --- | --- |
| Shadowsink Collector | | ☆☆ | Dark | slow undead warrior | 11-1 | |
| Defiled Bones | | | Dark | slow undead warrior | 11-1, 11-7 | |
| Lotus Assassin | | ☆☆☆ | Nature | fast asssassin rogue | 11-2 | |
| Toxic Imp | | ☆☆ | Nature | demon caster | 11-2, 11-5 | |
| Gladespring Knight | | | Nature | tank | 11-2 | |
| Boltspark Demon | | ☆☆☆ | Light | magical demon caster | 11-3 | |
| Boltspark imp | | ☆☆ | Light | magical demon caster | 11-3 | |
| Voltrix Adept | | | Light | caster | 11-3 | |
| Gravefrost Collector | | ☆☆ | Water | slow undead warrior | 11-4 | |
| Frostwing Diver | | ☆☆ | Water | fast flying beast | 11-4 | |
| Lime Gel | | ☆☆ | Nature | slow magical tank | 11-5, 11-6 | |
| Rottox Seer | | ☆☆ | Nature | caster | 11-6 | |
| Knight Creeper Immortal | | ☆☆☆☆ | Dark | undead warrior tank armored | 11-7 | |
| Carnage | | ☆☆☆☆ | Fire | magical demon caster | 11-7 | |
| Bone Soldier | | ☆☆ | Fire | slow undead warrior | 11-7 | |
Chapter 12 Enemies
Recommended level range: 32 to 33
| Name | Icon | Stars | Element | Class | Appearances | Special Ability |
| --- | --- | --- | --- | --- | --- | --- |
| Dragon Latern Busho | | ☆☆ | Fire | armored warrior | 12-1 | Perfect swing |
| Omimoru | | ☆☆☆☆ | Nature | caster | 12-1 | Boss |
| Kasai Sumo | | ☆☆ | Fire | warrior tank | 12-1 | Daze |
| Voltrix Adept | | | Light | caster | 12-1, 12-3, 12-5, 12-6 | |
| Rabid Manhunter | | ☆☆☆ | Dark | beast warrior | 12-2 | Boss |
| Vampire Bat | | ☆☆☆ | Dark | fast flying beast | 12-2, 12-6 | |
| Cavern hound | | ☆☆ | Dark | beast warrior | 12-2 | |
| Cloudstrike Busho | | ☆☆ | Light | armored warrior | 12-3, 12-5 | Perfect swing |
| Archmage Lumos | | ☆☆☆☆ | Light | caster | 12-3 | Boss |
| Itsuki Bannin | | ☆☆☆☆ | Nature | warrior tank | 12-4 | Boss |
| Stone Fist Monk | | ☆ | Nature | healer warrior | 12-4, 12-5, 12-6 | |
| Seaspray Busho | | ☆☆ | Water | armored warrior | 12-4, 12-6 | Perfect swing |
| Rakishi | | ☆☆☆☆ | Light | warrior tank | 12-5 | Boss |
| Lightning Flash Sumo | | ☆☆ | Light | warrior tank | 12-5 | Daze |
| Yotsuba Busho | | ☆☆ | Nature | armored tank | 12-6 | |
| Tank the Arena Champ | | ☆☆☆ | Fire | warrior tank | 12-6 | Boss |
Chapter 13 Enemies
| Name | Icon | Stars | Element | Class | Appearances | Special Ability |
| --- | --- | --- | --- | --- | --- | --- |
| Dragon Lantern Busho | | ☆☆ | Fire | Armored Warrior | 13-1, 13-2 | |
| Bluddblister | | ☆☆ | Fire | Goblin Warrior | 13-1 | |
| Winter Prophet | | ☆ | Water | Healer | 13-1 | |
| Brutis Forgemender | | ☆ | Water | Armored Dwarf Warrior | 13-1 | |
| Tidespear Noob | | ☆ | Water | Goblin Warrior | 13-1 | |
| Icethorn Squire | | ☆ | Water | Armored Tank | 13-1 | |
| Iron smith Brutus | | ☆☆☆☆☆ | Light | Armored Dwarf Warrior | 13-2 | |
| Sun Dwarf | | ☆☆ | Light | Armored Dwarf Warrior | 13-2 | |
| Sun Warrior | | ☆☆☆ | Light | Armored Dwarf Warrior | 13-2 | |
| Wolvar Stalker | | ☆☆☆☆☆ | Nature | Beast | 13-3 | |
| Arctic Hound | | ☆☆ | Water | Beast Warrior | 13-3 | |
| Deepwoods Huntsman | | ☆☆☆ | Nature | Beast | 13-3 | |
| Hellish Ox | | ☆☆☆ | Fire | Armored Beast Warrior | 13-4 | |
| Hellish Bull | | ☆☆☆☆ | Fire | Armored Beast Warrior | 13-4 | |
| Aedric | | ☆☆☆☆ | Dark | Magical Demon Caster | 13-4 | |
Chapter 14 Enemies
Name
Icon
Stars
Element
Class
Appearances
Special Ability
High Priestess Fiora

☆

☆☆☆

Water
Healer
14-1
Frost Adept

☆

☆

Water
Caster
14-1
Seaspray Busho

☆

☆

Water
Armored Warrior
14-1
Tai Mei Sensai

☆

☆☆☆☆

Nature
Healer Warrior
14-2
Mountain Werewolf

☆

☆☆

Light
Beast Warrior
14-2
Stone Fist Hermit

☆

☆

Nature
Healer Warrior
14-2
Kobal the Pestilent

☆

☆☆☆☆

Dark
Caster
14-3
Hellblaze Collector

☆

☆

Fire
Slow Undead Warrior
14-3
Gorefoot Packleader

☆

☆

Fire
Beast
14-3
Blackrose Lord

☆

☆☆

Dark
Armored Tank
14-4
Lunar Oracle

☆

☆☆

Dark
Healer
14-4
Cobalt Ten

☆

☆☆☆☆

Water
Fast Rogue
14-4
Blackrose Knight

☆

☆

Dark
Armored Tank
14-4
Lunar Priestess

☆

☆

Dark
Healer
14-4
Hiroto Senshu

☆

☆☆☆☆

Nature
Warrior Tank
14-5
Takenori Sumo

☆

☆

Nature
Warrior Tank
14-5
Takenori Ozeki

☆

☆☆

Nature
Warrior Tank
14-5
Atlas Vanguard

☆

☆☆☆

Fire
Magical Tank Slow
14-6
Guard Captain Ori

☆

☆☆☆

Water
Armored Warrior
14-6
Bonfire Construct

☆

☆☆

Fire
Magical Tank Slow
14-6
Cloudstrike Busho

☆

☆

Light
Armored Warrior
14-6
Tidal Wave Ozeki

☆

☆☆

Water
Warrior Tank
14-7
Hattori Ono

☆

☆☆☆

Dark
Armored Warrior
14-7
Nori Kanshu

☆

☆☆☆

Dark
Warrior Tank
14-7
Dragon Lantern Busho

☆

☆

Fire
Armored Warrior
14-7, 14-8
Tidal Wave Sumo

☆

☆

Water
Warrior Tank
14-7
Emperor Tao

☆

☆☆☆☆

Dark
Caster
14-8
Fire Palm Hermit

☆

☆☆

Fire
Healer Warrior
14-8
Chapter 15 Enemies
Name
Icon
Stars
Element
Class
Appearances
Special Ability
Fallen Emperor

☆

☆☆☆

Water
Slow Undead Warrior
15-1
Ninshi Otsuka

☆

☆☆☆☆

Water
Healer Warrior
15-1
Crashing Wave Hermit

☆

☆

Water
Healer Warrior
15-1
Griefbringer Bones

☆

Water
Slow Undead Warrior
15-1
Marauder Lord

☆

☆☆☆

Nature
Armored Tank
15-2
Labrynth Ox

☆

☆☆

Nature
Armored Beast Warrior
15-2
Gladespring Knight

☆

☆

Nature
Armored Tank
15-2
Josiah

☆

☆☆☆☆

Water
Slow Undead Warrior
15-3
Gravefrost Collector

☆

☆

Water
Slow Undead Warrior
15-3, 15-5
Rimefrost Demon

☆

☆☆

Water
Magical Demon Caster
15-3
Singeclaw Demon

☆

☆☆

Fire
Magical Demon Caster
15-4, 15-7
Aedric

☆

☆☆☆

Dark
Magical Demon Caster
15-4
Emerald Princess

☆

☆☆

Nature
Magical Demon Rogue
15-4
Lurking Demon

☆

☆☆

Dark
Magical Demon Caster
15-4, 15-6
Gladespring Lord

☆

☆☆

Nature
Armored Tank
15-5
Lurking Taskmaster

☆

☆☆☆

Dark
Magical Demon Caster
15-5
FrostRot Bones

☆

☆☆

Water
Slow Undead warrior
15-5
Torgo Arena Champ

☆

☆☆☆☆

Nature
Armored Beast Warrior
15-5
Snorgal Le Swine

☆

☆☆☆

Dark
Demon Tank Slow
15-6
Prairie Goblin

☆

☆

Nature
Beast Warrior
15-6
Kasai

☆

☆☆☆☆

Fire
Healer Warrior
15-7
Fire Palm Hermit

☆

☆☆

Fire
Healer Warrior
15-7
Hellish Ox

☆

☆☆

Fire
Armored Beast Warrior
15-7
Chapter 16 Enemies
| Name | Icon | Stars | Element | Class | Appearances | Notes / Special Abilities |
| --- | --- | --- | --- | --- | --- | --- |
| Magmucus | | ☆☆☆☆☆ | Fire | Slow Magical Tank | 16-1 | |
| Raspberry Wobbler | | ☆☆☆ | Fire | Slow Magical Tank | 16-1 | |
| Lime Gel | | ☆☆ | Nature | Slow Magical Tank | 16-1 | |
| Raspberry Gel | | ☆☆ | Fire | Slow Magical Tank | 16-1, 16-2 | |
| Headcrusha | | ☆☆☆☆ | Fire | Armored Goblin Warrior | 16-2 | |
| Gutpunch Runner | | ☆☆ | Fire | Goblin Warrior | 16-2, 16-6, 16-9 | |
| Emerald Princess | | ☆☆☆ | Nature | Magical Demon Rogue | 16-3 | |
| Laguna | | ☆☆☆☆☆ | Water | Magical Demon Rogue | 16-3 | |
| Frost Adept | | ☆☆ | Water | Caster | 16-3, 16-4 | |
| Berry Gel | | ☆☆☆ | Water | Slow Magical Tank | 16-3 | |
| Ash the Inferno | | ☆☆☆☆☆ | Fire | Caster | 16-4 | |
| Ferro the Blizzard | | ☆☆☆☆☆ | Water | Caster | 16-4 | |
| Pyromancer Adept | | ☆☆☆ | Fire | Caster | 16-4 | |
| Asrogar the Ancient | | ☆☆☆☆☆ | Fire | Caster | 16-5 | |
| Fire Palm Hermit | | ☆☆☆ | Fire | Healer Warrior | 16-5 | |
| Gutpunch Berserker | | ☆☆☆ | Fire | Goblin Warrior | 16-5 | |
| Mutters | | ☆☆☆☆ | Nature | Beast Warrior | 16-6 | |
| Scarlet Death | | ☆☆☆ | Fire | Slow Undead Warrior | 16-6, 16-7 | |
| Utica the Forgotten | | ☆☆☆☆☆ | Water | Slow Undead Warrior | 16-7 | |
| Frostrot Bones | | ☆☆☆ | Water | Slow Undead Warrior | 16-7 | |
| Stone Fist Ascetic | | ☆☆☆ | Nature | Healer Warrior | 16-8 | |
| Singeclaw Taskmaster | | ☆☆☆☆ | Fire | Magical Demon Caster | 16-8, 16-9 | |
| Avaricious Snork | | ☆☆☆☆ | Fire | Demon Tank Slow | 16-8 | |
| Bloodtusk | | ☆☆☆☆ | Fire | Armored Beast Warrior | 16-9 | |
| Hunkar | | ☆☆☆☆ | Fire | Armored Beast Warrior | 16-9 | |
| Hellish Ox | | ☆☆☆ | Fire | Armored Beast Warrior | 16-9, 16-10 | |
| Hellish Minotaur | | ☆☆☆☆☆ | Fire | Armored Beast Warrior | 16-10 | |
| Sulfurious | | ☆☆☆☆ | Fire | Attacker Fast | 16-10 | Epic Boss |
| Fire Palm Ascetic | | ☆☆☆☆ | Fire | Healer Warrior | 16-10 | |
| Singeclaw Demon | | ☆☆☆ | Fire | Magical Demon Caster | 16-10 | |
Chapter 17 Enemies
Name
Icon
Stars
Element
Class
Appearances
Special Ability
Watersnake

☆

☆☆☆

Water
Fast Rogue
17-1
White Crane

☆

☆☆☆

Water
Fast Rogue
17-1
Lakestrider Genin

☆

☆☆

Water
Fast Rogue
17-1, 17-3
Crashing Wave Ascetic

☆

☆☆

Water
Fast Rogue
17-1
Luminous Thundershout

☆

☆☆☆

Light
Dwarf Healer
17-2
Hammerhand Scholar

☆

☆☆

Nature
Dwarf Healer
17-2
Stone Fist Ascetic

☆

☆☆

Nature
Healer Warrior
17-2
June Song

☆

☆☆☆

Nature
Fast Rogue
17-3
Stormbringer Guide

☆

☆☆☆

Water
Dwarf Healer
17-3, 17-5
Stormbringer Scholar

☆

☆☆

Water
Dwarf Healer
17-3
Pyromancer Wizard

☆

☆☆☆

Fire
Caster
17-4
Flamemaster Nyx

☆

☆☆☆

Fire
Dwarf Healer
17-4
Pyromancer Adept

☆

☆☆

Fire
Caster
17-4
Rubyfist Scholar

☆

☆☆

Fire
Dwarf Healer
17-4
Stormbringer Rune Master

☆

☆☆☆☆

Water
Dwarf Healer
17-5
Rubyfist Rune Master

☆

☆☆☆☆

Fire
Dwarf Healer
17-5
Stone Master Kahal

☆

☆☆☆☆

Nature
Dwarf Healer
17-5
Hammerhand Guide

☆

☆☆☆

Nature
Dwarf Healer
17-5
Rubyfist Guide

☆

☆☆☆

Fire
Dwarf Healer
17-5
Chapter 18 Enemies
Name
Icon
Stars
Element
Class
Appearances
Special Ability
Deimos

☆

☆☆☆

Nature
Slow Magical Tank
18-1
Erebus

☆

☆☆

Dark
Slow Magical Tank
18-1
Bramblelurk Kaptin

☆

☆☆

Nature
Armored Goblin Warrior
18-1
Bramblelurk Goon

☆

☆☆

Nature
Armored Goblin Warrior
18-1, 18-2
Ivar Petrock

☆

☆☆☆

Nature
Magical Tank Slow
18-2
Sunspark Giant

☆

☆☆

Light
Magical Tank Slow
18-2
Hydro Osmium

☆

☆☆☆

Water
Slow Magical Tank
18-3
Hydro Osmium

☆

☆☆☆☆

Water
Slow Magical Tank
18-3
Berry Wobbler

☆

☆☆☆

Water
Slow Magical Tank
18-3
Tidespear Goon

☆

☆☆

Water
Slow Magical Tank
18-3
Chapter 19 Enemies
Name
Icon
Stars
Element
Class
Appearances
Special Ability
Jade Horn Fiend

☆☆☆☆

Nature
Magical Demon Warrior
19-1
Water Hunter
Shadow Sprite

☆☆☆☆☆

Dark
Magical Undead Spirit
19-1
Purge and remove buffs
Nasty Essence

☆☆☆☆☆

Nature
Magical Undead Spirit
19-1
Boss
Screaming Webcap

☆☆☆☆

Dark
Mushroom Magical
19-2, 19-4, 19-7
Silence
Grape Wobbler

☆☆☆

Dark
Slow Magical Tank
19-2, 19-7
Disease
Shrieking Webcap

☆☆☆☆☆

Dark
Magical Undead Spirit
19-2
Mini boss
Shadow Wisp

☆☆☆☆☆☆

Dark
Mushroom Magical
19-2
Mini boss
Toxic Shiitake

☆☆☆☆☆☆

Nature
Mushroom Magical
19-2
Boss
Soulfire Fiend

☆☆☆☆

Fire
Magical Demon Warrior
19-3, 19-5
Nature Hunter III
Bright Sprite

☆☆☆☆☆

Light
Magical Undead Spirit
19-3
Heal
Skirra

☆☆☆☆☆☆

Light
Magical Undead Spirit
19-3
Boss; Shock
Shadowlands Fiend

☆☆☆☆

Dark
Magical Demon Warrior
19-4, 19-6, 19-7
Light Hunter III,  

From the Shadows

Jade Horn Demon

☆☆☆☆☆

Nature
Magical Demon Warrior
19-4
Water Hunter
Grape Jiggler

☆☆☆☆

Dark
Slow Magical Tank
19-4
Disease
Jade Demon Karu

☆☆☆☆☆☆

Nature
Magical Demon Warrior
19-4
Boss; Purge Buffs
Burning Pixie

☆☆☆☆

Fire
Magical Undead Spirit
19-5
Burns everyone
Burning Sprite

☆☆☆☆☆

Fire
Magical Undead Spirit
19-5
Burns everyone
War Demon Saru

☆☆☆☆☆

Fire
Magical Demon Warrior
19-5
Boss
Singeclaw Demon

☆☆☆

Fire
Magical Demon Caster
19-6
Fireballs
Deep Winds Demon

☆☆☆☆☆

Water
Magical Demon Warrior
19-6
Mini bosses; Fire Hunter III, DEF- debuff
Okori Tempest

☆☆☆☆☆☆

Water
Magical Demon Warrior
19-6
Boss;  

Silence Immune

; Fire Hunter III; gets stronger as each Hero takes damage
  Shadowlands Demon

☆☆☆☆☆

Dark
Magical Demon Warrior
19-7
Mini boss, Light Hunter III
Asha Jakki

☆☆☆☆☆☆

Light
Magical Demon Warrior
19-7
Boss; Lightning and crushing attacks
Chapter 20 Enemies
Name
Icon
Stars
Element
Class
Appearances
Special Ability
Divine Faithkeeper

☆

☆

☆

☆

☆

Light
Magical Armored Healer
20-1, 20-4, 20-8
Kappa Sentinel

☆

☆

☆

☆

☆

Water
Magical Armored Tank
20-1, 20-2, 20-4, 20-8
San Agatha

☆

☆

☆

☆

☆

☆

Water
Magical Armored Healer
20-1
Boss
Kappa Sentry

☆

☆

☆

☆

Water
Magical Armored Tank
20-1, 20-7
Divine Warrior

☆

☆

☆

☆

Light
Magical Armored Healer
20-1, 20-2, 20-4, 20-8
Magnus

☆

☆

☆

☆

☆

☆

Water
Magical Armored Tank
20-2
Boss
Astral Adept

☆

☆

☆

☆

Nature
Magical Armored Healer
20-2, 20-5, 20-8
Burning Whisp

☆

☆

☆

☆

☆

☆

Fire
Magical Undead Spirit
20-3
Frozen Whisp

☆

☆

☆

☆

☆

☆

Water
Magical Undead Spirit
20-3
Shadow Whisp

☆

☆

☆

☆

☆

☆

Dark
Magical Undead Spirit
20-3
Seikatsu the Life Spirit

☆

☆

☆

☆

☆

Nature
Unique Support Slow Flying
20-3
Boss
Bright Whisp

☆

☆

☆

☆

☆

☆

Light
Magical Undead Spirit
20-3
San Andria

☆

☆

☆

☆

☆

☆

Nature
Magical Armored Healer
20-4
Boss
Bright Sprite

☆

☆

☆

☆

☆

Light
Magical Undead Spirit
20-4
Dragon Lantern Hatamoto

☆

☆

☆

☆

☆

Fire
Armored Warrior
20-5
Capra

☆

☆

☆

☆

☆

☆

Fire
Magical Armored Healer
20-5
Boss
Delta Sentry

☆

☆

☆

☆

Fire
Magical Armored Tank
20-5
Shadowlands Lord

☆

☆

☆

☆

☆

☆

Dark
Magical Demon Warrior
20-6
Boss
Moros

☆

☆

☆

☆

☆

☆

Dark
Magical Armored Tank
20-6
Boss
Shadowlands Demon

☆

☆

☆

☆

☆

Dark
Magical Demon Warrior
20-6
Grape Jiggler

☆

☆

☆

☆

Dark
Slow Magical Tank
20-6
Hammerhand Rune Master

☆

☆

☆

☆

☆

Nature
Dwarf Healer
20-7
Alexandros

☆

☆

☆

☆

☆

Light
Magical Armored Tank
20-7
Boss
Rubyfist Rune Master

☆

☆

☆

☆

☆

Fire
Dwarf Healer
20-7
Stormbringer Guide

☆

☆

☆

☆

Water
Dwarf Healer
20-7
Frozen Sprite

☆

☆

☆

☆

☆

Water
Magical Undead Spirit
20-7
Celestial Cloudrider

☆

☆

☆

☆

☆

Water
Magical Armored Healer
20-8
Astral Paladin

☆

☆

☆

☆

☆

Nature
Magical Armored Healer
20-8
Aquarius

☆

☆

☆

☆

☆

☆

Water
Magical Armored Healer
20-8
Boss
Akriel

☆

☆

☆

☆

☆

☆

Light
Magical Armored Healer
20-8
Boss
Chapter 21 Enemies
| Name | Icon | Stars | Element | Class | Appearances | Special Ability |
| --- | --- | --- | --- | --- | --- | --- |
| Burning Whisp | | ☆☆☆☆☆☆ | Fire | magical undead spirit | 21-1 | |
| Elven Sunfolk | | ☆☆☆☆ | Fire | elf rogue | 21-1 | |
| Burning Pixie | | ☆☆☆☆ | Fire | magical undead spirit | 21-1 | |
| Lotus Chunin | | ☆☆☆☆ | Nature | fast rogue | 21-2 | |
| Noble Shadowfolk | | ☆☆☆☆☆ | Dark | elf rogue | 21-2, 21-5, 21-7, 21-9 | |
| Tidespear Bruiser | | ☆☆☆☆ | Water | slow magical tank | 21-3 | |
| Gravefrost Harvester | | ☆☆☆☆☆ | Water | slow undead warrior | 21-3, 21-5, 21-8 | |
| Hellblaze Harvester | | ☆☆☆☆☆ | Fire | slow undead warrior | 21-4 | |
| Noble Sunfolk | | ☆☆☆☆☆ | Fire | elf rogue | 21-4, 21-7 | |
| Jade Horn Demon | | ☆☆☆☆☆ | Nature | magical demon warrior | 21-5 | |
| Stormbringer Rune Master | | ☆☆☆☆☆ | Water | dwarf healer | 21-6 | |
| Zeta Sentry | | ☆☆☆☆ | Dark | magical armored tank | 21-6 | |
| Hammerhand Guide | | ☆☆☆☆ | Nature | dwarf healer | 21-6 | |
| Rubyfist Guide | | ☆☆☆☆ | Fire | dwarf healer | 21-7 | |
| Zeta Sentinel | | ☆☆☆☆☆ | Dark | magical armored tank | 21-8, 21-9 | |
| Shadow Wisp | | ☆☆☆☆☆☆ | Dark | magical undead sprite | 21-9 | |
| Shadowlands Demon | | ☆☆☆☆☆ | Dark | magical demon warrior | 21-9 | |
| Shadow Sprite | | ☆☆☆☆☆ | Dark | magical undead sprite | 21-9 | |
| Shrieking Webcap | | ☆☆☆☆☆ | Dark | mushroom magical | 21-10 | |
| Zeta Justicar | | ☆☆☆☆☆☆ | Dark | magical armored tank | 21-10 | |
| Shadowsink Reaper | | ☆☆☆☆ | Dark | slow undead warrior | 21-10 | |
| Spine Root | | ☆☆☆☆ | Nature | - | 21-10 | |
| Toxic Root | | ☆☆☆☆ | Nature | slow | 21-10 | |
| Magic Root | | ☆☆☆☆ | Nature | fast | 21-10 | |
| Spine Boss Root | | ☆☆☆☆ | Nature | - | 21-10 | |
| Magic Boss Root | | ☆☆☆☆ | Nature | slow | 21-10 | |
| Root of All Evil | | ☆☆☆☆ | Nature | Plant | 21-10 | Epic Boss |
Gold Island Enemies
| Name | Icon | Stars | Element | Class | Appearance | Special Ability |
| --- | --- | --- | --- | --- | --- | --- |
| Cavern Dwarf Warrior | | ☆☆ | Dark | armored, dwarf, warrior | Secret Stash-1,2,3 | |
| Rubyfist Scholar | | ☆☆☆ | Fire | dwarf, healer | Secret Stash-1 | |
| Rubyfist Guide | | ☆☆☆☆ | Fire | dwarf, healer | Secret Stash-2,3 | |
| Cavern Lord | | ☆☆☆ | Dark | armored, dwarf, warrior | Secret Stash-4 | |
| Rubyfist Rune Master | | ☆☆☆☆☆ | Fire | dwarf, healer | Secret Stash-4 | |
| Prince Belgar Firebeard | | ☆☆☆☆☆ | Fire | Warrior | Secret Stash-1,2 | Boss |
| King Belgar Firebeard | | ☆☆☆☆☆☆ | Fire | warrior | Secret Stash-3,4 | Boss |
Exp Island Enemies
| Name | Icon | Stars | Element | Class | Appearance | Special Ability |
| --- | --- | --- | --- | --- | --- | --- |
| Frost Adept | | ☆☆ | Water | Caster | Alchemy Labs-1 | |
| Pyromancer Adept | | ☆☆☆ | Fire | Caster | Alchemy Labs-2 | |
| Voltix Wizard | | ☆☆☆ | Light | Caster | Alchemy Labs-3 | |
| Sullen Wizard | | ☆☆☆ | Dark | Caster | Alchemy Labs-4 | |
| Junior Chemist | | ☆☆☆ | Nature | Dwarf, Caster | Alchemy Labs-1 | |
| Chemical Engineer | | ☆☆☆☆ | Nature | Dwarf, Caster | Alchemy Labs-2,3 | |
| Mad Scientist | | ☆☆☆☆☆ | Nature | Dwarf, Caster | Alchemy Labs-4 | |
| Master Apothecary | | ☆☆☆ | Nature | Caster | Alchemy Labs-1,2 | Boss |
| Lord Apothecary | | ☆☆☆☆ | Nature | Caster | Alchemy Labs-3,4 | Boss |