On 2018-06-14

 Sifu Jianzhi,

 Masuta Kira,

 Black Diamond and

 Shadowblade founded the new Assassin Family.
All members of this family are a

 Martial Artist and they use several secret and forbidden techniques. Shhh!
Note: Of particular note is the fact that

 Black Diamond gives all

Light allies on the team the family trait

 Martial Artist through her

 Light Assault trait, which makes them Assassins. This means that

Light allies also benefit from the Assassins' passive buffs.
Unlike in other games Assassin is a Family not a Class in Dungeon Boss.
Assassins are damage focused and can dodge enemy attacks to defend themselves.

 Masuta Kira also brings the

 Stealth Technique, which gives him and all Assassins a high Damage Reduction. They also can weaken their opponents with debuffs aimed at disabling enemies such as

Paralysis and

Off-Balance.
The two Legendary Assassins

 Aria and
 Serenity buff the team even more through their Epic traits. Assassins specialize in physical damage, which gives them the

Haste Buff from
 Serenity when the attack is a single-target Physcial attack.
The majority of Assassins are

 Fast on the attack.
Synergies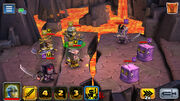 The Assassin family has relatively good synergy with each other, as almost every member of the family brings a passive buff in the form of a technique that passively buffs the other Assassins by simply bringing them together.
Synergies of Assassin heroes:





Assassin Heroes get the following passive buffs:
Vulnerabilities
Trending pages
All items (6)