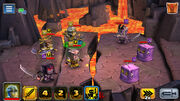 On 2018-06-14 Sifu Jianzhi,

 Masuta Kira,

 Black Diamond and

 Shadowblade founded the new Assassin Family.
All members of this family are a

 Martial Artist and they use serveral secret and forbidden techniques. Shhh!
(Unlike in other games Assassin is a Family not a Class in Dungeon Boss.)
Synergies
Synergies of Assassin heroes:








Assassin Heroes get the following passive buffs:
Vulnerabilities
Trending pages
All items (6)
Community content is available under
CC-BY-SA
unless otherwise noted.